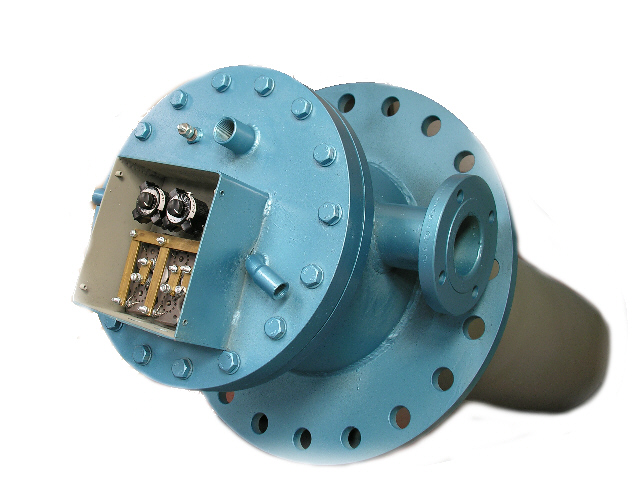 Outflow Heaters.  You'll find information here about our range of heaters
Outflow Heater Instructions
The standard range of Electric Heaters are only suitable for horizontal mounting. If vertical mounting is required a special version of the heater is mandatory. The oil outlet connection may normally be located on the left or right hand side of the heater body (when viewed from the terminal box) and this connection is screwed BSP or flanged.
The oil return connection is similarly screwed BSPor flanged and is normally located on the opposite side of the body tube. A drain connection is provided when requested.
Adequate withdrawal space must be provided for both horizontal and vertically mounted heaters to enable the heating element cores and heating battery removal. The withdrawal distance is given on the drawing. The bolt-to-tank models are supplied with an oil joint.
All accessories, except thermostats, are supplied as loose items. These items normally comprise the oil joint and thermometer. When supplied the thermometer is provided with a 1/2″ BSP mild steel pocket so that the instrument can be removed without draining off the liquid in the heater body / tank.
Methods of Operation of Heater Unit
Heat is transferred to the liquid by means of Removable ceramic formed heating elements (cores). Please note the terminology, since it is easy to confuse "heating elements" with "heaters" (which we think of as the complete item).
The electric elements are fitted into a mild steel or stainless steel sheath (tube). Control and master (safety cut-out) thermostats are standard features to the heating battery and thus
automatic control can be achieved. Unless otherwise requested, in multi-tube units, the minimum number of heating elements to each control thermostat is three. All thermostat switches are the normally closed type ("ON") so that an increase in liquid temperature above the adjustable set temperature of the thermostat, opens the heater circuit ("OFF").